10 Ideas for a Successful Giving Tuesday Campaign
If you haven't heard of Giving Tuesday campaign, you need to.
Known as a global generosity movement, Giving Tuesday is one of the most powerful donation-driving campaigns out there for nonprofits and charities.
Since 2012, Giving Tuesday has aimed to combat the consumerism of the holiday season with a huge day of philanthropy.
And year-over-year, this day of generosity has only gotten bigger and more crucial for nonprofits and their year-end campaigns.
As a matter of fact, in 2020 more than 34 million people participated in Giving Tuesday, increasing 29% from 2019.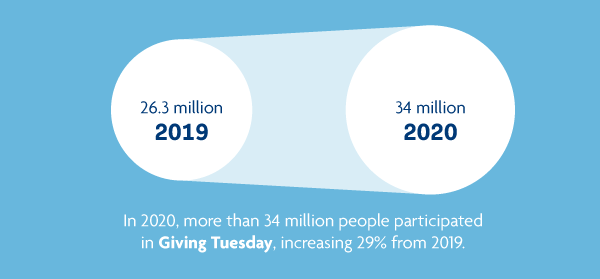 So when is Giving Tuesday 2022?
Each year, the event takes place the Tuesday following U.S. Thanksgiving. Meaning that this year Giving Tuesday is on November 29, 2022.
Looking for Giving Tuesday campaign examples and ideas?
We want to help you harness the power of this global day of giving. Keep reading to learn how to prepare for this year and our 10 ideas for a successful Giving Tuesday campaign.
How to Prepare for Giving Tuesday
Even though Giving Tuesday isn't until November, it's important to begin preparing for this huge campaign as early as possible. We recommend that nonprofits begin preparations during the summertime, when giving and donations slow down.
Below we'll detail specific preparations your organization can begin making ahead of Giving Tuesday 2022.
Find individual stories
Now is the time to source your most compelling stories to share with your audience. Donors are motivated by human connection and empathy. So when they hear a story of someone benefiting from your organization, they are much more likely to feel inspired to donate.
Begin the process of reaching out to people from your database, social media followers, or even personal friends or family who are impacted by your cause. Then, set up an interview and ask them to reveal how your organization has been helped.
Having a few of these stories in your back pocket for your Giving Tuesday campaign will help supporters see the real impact they're making with their donation.
Create graphics and websites
Did you know that the Giving Tuesday website has a library of logos and graphics that are completely free to use?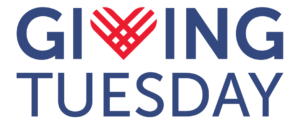 Utilizing these amazing free resources, begin creating graphics and design to use on all your content. This branding will give more power and authority to your Giving Tuesday content.
Having a collection of graphics optimized for your social media pages, emails, and websites will give you a great head start on your campaign.
In addition, create a Giving Tuesday landing page that you can link to on all your digital channels.
Make sure that it is easy to navigate with a simple interface and user-friendly design elements. In other words, make it as easy as possible for the average donor to complete the donation process.
Identify your strongest donors
Because Giving Tuesday is such a powerhouse when it comes to fundraising campaigns, it's essential to tailor content to your strongest donors. Supporters of yours who have donated or volunteered before are your best chances at conversion. As a result, you want to make sure you're producing content that speaks directly to these individuals.
Segment lists of your best donors and begin thinking of targeted content. Thank them for their past donation or volunteerism, tell them how their support has helped, and offer another opportunity to make an impact on Giving Tuesday.
Your donors want to feel appreciated. If you take the time to single them out for their past generosity, then they're much more likely to contribute to your cause again.
Create deadlines
Organization is key when it comes to managing a campaign as big as Giving Tuesday. That's why you must begin creating a timeline and deadlines for your campaign as soon as possible.
Don't look at Giving Tuesday as just a 24-hour giving window. Think of it as a large-scale fundraising campaign with opportunities for various types of content on multiple platforms. You want to begin building awareness for your campaign as early as a month before Giving Tuesday.
Start designating responsibilities within your organization and begin a content calendar for the days leading up to and following Giving Tuesday.
Having a structured and detailed plan will allow you time to focus on things like content and idea creation for your campaign.
Read on to see 10 Giving Tuesday campaign examples and ideas to get your organization started.
Here are 10 Giving Tuesday Campaign Examples and Ideas
So you now understand the importance of Giving Tuesday and how to begin planning for it. But in order to create a successful campaign, you have to have some creative fundraising ideas to showcase through your content.
Check out our list of Giving Tuesday campaign examples and ideas to optimize your fundraising results!
1.     Fundraising thermometer
Thermometers are one of the most popular fundraising tactics for a reason, they work.
They allow supporters to see that others have given to your cause, which makes them want to join in. Thermometers also give a visual representation of funds raised and how much is needed to reach the goal. When you state your donation amounts as raw numbers, it's much more difficult for supporters to visualize your progress.
You can create a thermometer that tracks real-time donations and include it on your landing page. This entices donors further because they will be able to view the thermometer rise due to their donation.
Or, you can create a static thermometer that exists as a graphic in your emails. Check out an example here: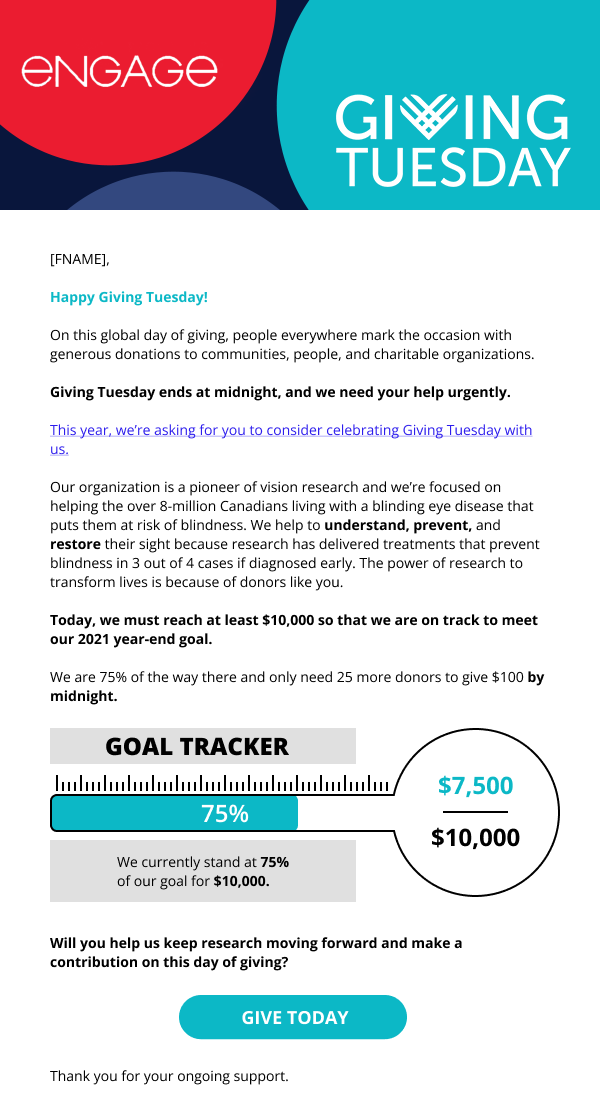 2.     Get creative with storytelling
Because you sourced great individual stories in the Giving Tuesday "preparation" phase, you're now ready to get creative with your story content.
Instead of writing, try seeing if your storytellers would be willing to share their story in a short video. Videos are far more engaging and are shared at a rate 1200% higher than text posts.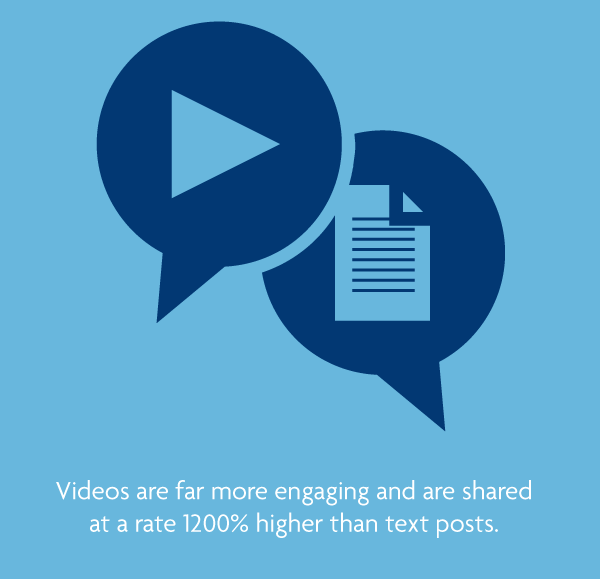 If your storyteller doesn't want to be put in a video, ask if they will provide a photo of themselves to go along with their written story.
3.     Utilize hashtags and social media
The #GivingTuesday movement is absolutely huge on social media. Because Giving Tuesday is almost entirely digitally-based, leveraging your network and the power of social sharing is a must.
Share your mission, stories, and how you're participating in Giving Tuesday. And don't forget that hashtag!
Your organization can also brand your profile pictures and all Giving Tuesday-related media with logos and graphics.
Be sure to engage with followers who have shared your posts and donors who have reached out.
4.     Peer-to-peer fundraising
Remember how we told you to identify your strongest supporters earlier? This is where that work pays off.
Target your best group of donors or volunteers and ask them to begin their own fundraising campaign to further your Giving Tuesday cause. They can make fundraising pages, send out emails to their personal contact list, or create posts on their social media accounts to inspire their network of friends and family.
Be sure to provide guidance and resources for your peer-to-peer fundraisers. Supply them with images and graphics, examples of emails and social media content, and be ready to answer any questions they may have.
5.     Use suggested giving amounts
It's important to give your donors a point of reference for how much to donate to your Giving Tuesday campaign. Without some sort of anchor, many donors will be left wondering how much is enough to make a difference.
There are a few different methods you can implement when utilizing suggested giving amounts.
On your Giving Tuesday landing page, you can create buttons with specific amounts for donors to choose from when submitting their donation. Just be sure to create a button where they can fill in their own custom amount, as well.
In your emails or social media posts, you should suggest specific amounts for your supporter to donate. And you can even provide an example of the impact each amount will have. For example, "Just $50 will provide 5 families with clean water for a year," or "Your gift of $100 will feed 10 elephants for one month."
You can even segment your lists and provide higher or lower donation ask amounts in your content dependent on each donor's giving history.
6.     Utilize official resources
Earlier we mentioned how the Giving Tuesday website has tons of logos and graphics available for free. But that's not all!
They also have tons of other resources including toolkits that give fundraising advice for all kinds of nonprofits. Check out all of the tools on the Giving Tuesday Canada website to ensure you're equipped with everything you need for the global day of giving.
7.     Give impactful examples
If you've done previous Giving Tuesday campaigns, tell your supporters about the money you raised and the real-world impact those funds made.
Or, if this is your organization's first Giving Tuesday, reference accomplishments your community has made through other fundraising campaigns.
Giving specific examples of how your donors have helped your cause in the past motivates them to give again.
Then, make reference to exactly how their Giving Tuesday donation will help this year. Be as specific as possible by translating dollars raised into impact generated.
8.     Promote monthly giving
Monthly giving is always a smart idea to incorporate into your overall marketing strategy. After all, monthly donors give an average of 42% more than one-time donors in the course of a year.
Giving Tuesday is another opportunity to create or promote your monthly giving program. Express to your donors how a monthly gift would create a bigger impact and what their recurring donation would fund. Having a solid promotion plan for your Giving Tuesday campaign will lead to steady income for your nonprofit on a recurring basis.
9.     Create a matching gift program
Another way to help donors realize a higher impact potential is through a matching gift program. Reach out to organizations or board members that would be willing to chip in, and determine an amount they would be comfortable matching up to on Giving Tuesday.
Be sure to make it known that each donation would be making double the impact for your community and towards your cause. If a donor's $50 gift can be turned into $100 with no extra effort on their part, they will be all the more encouraged to donate.

10.     Thank your donors
Arguably one of the most important aspects of your Giving Tuesday campaign will be the "thanks" you send out afterwards. Your donors want to be recognized for their efforts, and your relationship with them can only strengthen from expressing your gratitude.
Include a summary of the amount you raised or the impact your Giving Tuesday success has created. Post thank you messages or graphics on all of your social media channels.
Donors who feel appreciated are much more likely to stick around for your next Giving Tuesday campaign and all your organization's future endeavors.
Our Take on a Successful Giving Tuesday Campaign
Sometimes nonprofits are too busy changing the world to craft fundraising campaigns from scratch, and that's okay.
At Engage Fundraising, we work with charitable and nonprofit organizations to develop direct marketing campaigns, build donor relationships and retention, and increase donor conversion. Let us help you reach your potential.
Find out more about us by speaking to one of our fundraising specialists.