The Key to Retention: 5 Ways to Build Donor Relationships
There are many reasons a donor may feel inspired to give to your organization. But perhaps one of the biggest (and most overlooked) reasons is the feeling and experience a donor has with your nonprofit.
Strong donor relationships and trust in an organization are cited as some of the top reasons a person chooses to give to a nonprofit. When you are able to establish and nurture a positive relationship with a donor, it builds trust in your organization and allows them to feel good about supporting you.
However, it's not enough to just send out your regular marketing communications and expect that donors will feel appreciated and respected. Your team needs to put in the extra effort to ensure that each and every donor feels like a valued part of your community.
If you're searching for ways to improve your donor retention, good news—cultivating donor relationships will greatly help you retain donors and grow your database.
We'll take you through the connection between donor relations and retention, the importance of retention, and how to build relationships with donors in this post.
How Strong Donor Relationships Leads to Retention
The correlation between donor relations and retention is a much stronger one than most organizations think.
In a recent study, past annual donors who had not made a gift to an organization within 24 months were asked why they had stopped donating. The biggest reason was that they were never acknowledged or thanked for their previous gift.
We'll get into the specifics on why it is so crucial to say thanks to your donors later in this post, but that study represents a very obvious and important point. If you do not maintain a relationship with your donors, they will leave.
Perhaps you're thinking, "why do I need to retain donors when I could focus on acquiring fresh, new donors?"
Well, to pique your interest, here's a quick stat: for donors who have given more than once, the retention rate is 63%.That's a huge thing to gain, and an even bigger thing to lose.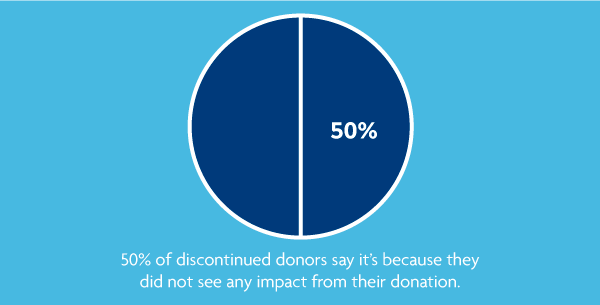 For more reasons on why you should absolutely put time and effort into your donor retention, keep reading.
Why Donor Retention Is So Important
Almost all nonprofit marketing strategists agree that donor retention is actually more important than donor acquisition.
Why?
For starters, the cost of retaining donors is far lower than the cost of acquiring new donors. As a matter of fact, the cost for acquiring a new donor can be 50-100% more than the amount they actually end up giving to your nonprofit.While the cost to get new donors into your database can be quite high, existing donors can be marketed to for a very low cost through methods like email appeals or social media ads.
The funds that are raised from a single donor over a lifetime is called the lifetime value. The longer a donor has had a relationship with your organization, the higher their overall financial value is over a lifetime.
Not to mention, if you've managed to maintain a relationship with a donor for a while, these people are the ones most likely to give large donations. It has been found that most major gifts are made after a donor has given to your organization for at least five years.
Focusing on retention and stopping donor lapses from occurring pays off in the long run. Only 1 out of every 25 lapsed donors returns and donates in the future, so it's absolutely crucial that you do everything you can to prevent lapses from happening.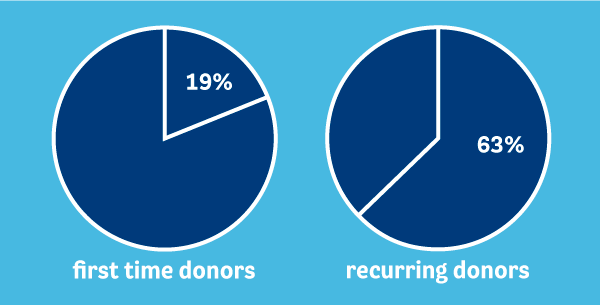 Donor acquisition is a large part of growing your base and community, but don't forget about the importance of donor retention!
5 Ways to Build Strong Donor Relationships
Now that you've learned why donor retention is so important, you're ready to delve into the how. Through these 5 essential donor relation techniques, you will build great relationships and retain more and more donors for your organization.
1. Segment your communications
It's vital to always provide value to your donors. Therefore, your content should always be targeted and mindful of your audience. Are you sending an event invitation to someone who has never shown any interest in event participation? Or perhaps you're sending a newsletter to a donor who only interacts with month-end fundraising appeals?
Whatever the case, analyze your database and segment lists based on the content they actually interact with. That way, you can create content that speaks to these people and appeals to their interests or desires.
If your communications are trying to appeal to everyone, they'll feel generic and flat, and will end up appealing to no one! Take the time to learn about each donor group's interests and your relationship with each donor will become more personal and fulfilling.
2. Ask them to donate again
If you don't ask your donors to donate, they won't! You may think that appealing to your donors for more than one contribution is bothersome. But as long as you're taking some time in between asks and thanking them on the occasions they give, ask away.
Not many people think of this point as being a major reason for donor lapses, but it is. Your donors lead busy lives. If you don't take the time to remind them about the great things their gift will fund, your organization will not make a lasting impact in their minds.
Don't ignore your donors and you're on your way to a strong donor relationship.
3. Impact, impact, impact
Reporting to your donors about their impact can take many forms, which is great, because it will give you lots of content and is incredibly important for donor retention.
Donors want to know that their money is going towards an organization that's actually making an impact. You can show this through beneficiary stories, an infographic with impactful statistics and imagery, or a video of you showing what their funds went towards. However you choose to report donor impact, just be sure you do!
50% of discontinued donors say it's because they did not see any impact from their donation. That's how important it is to make donor impact known.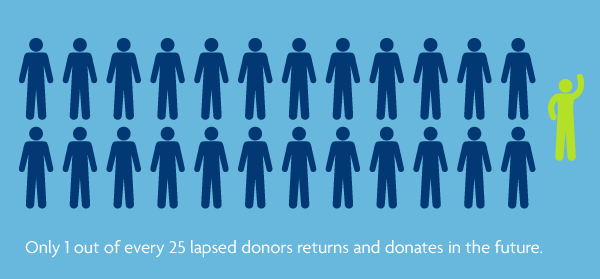 Giving your donors specific, tangible examples of how their gift has made a difference goes a long way to creating a positive donor experience and relationship.
4. Keep your promises
Whether or not you can keep your promises to donors says a lot about the trustworthiness and credibility of your organization.
When you donors ask to only be contacted for donations only once a year, do you honour that? Perhaps there's a group of supporters who don't want to be solicited via text message, are you sure to add them to a do not solicit list ASAP?
It can take a long time to build up trust with a donor, but one violation of that trust and your relationship is irrevocably damaged.
Also, be sure to deliver content when you say you're going to. For instance, if you end a fundraising campaign by saying, "stay tuned for our impact report for fundraising results," be sure to deliver your impact report in a timely manner.
You may think that donors don't remember small details of your content such as this, but you'd be surprised at the amount of people who wouldn't forget that breach of trust.
The bottom line is: do what you say you're going to do in a timely and trustworthy fashion.
5. Say thank you
And last but certainly not least, say thank you to your donors.
Many organizations may think a "thank you" for a donation goes without saying—it doesn't. Even just sending a quick "thanks" following a campaign does wonders for donor relationships, and by extension, donor retention.
Donors want to feel appreciated for the money they've donated, time they've volunteered, events they've participated in, etc. Give them thanks in the form of a social media post, email shoutout, or even a handwritten thank you note.
The more you can personalise your expression of appreciation, the better. After a donor has sent a specific amount of money, write them back saying exactly what their gift will fund. For example, "your $25 donation will add five books to an underfunded school library."
It doesn't feel good when organizations take your money and run. That's why even the smallest acknowledgement of thanks creates positive feelings about your nonprofit.
Your donors will be grateful for it, and you will be too when they stick around and contribute to your cause for many more years to come.
Having Trouble Retaining Donors?
Nonprofits are often extremely busy organizations, juggling limited time and resources to try and change the world. Perhaps you just don't have the time to spend on donor relations and need some help. We get it.
At Engage Fundraising, we work with charitable and nonprofit organizations to help them run successful direct marketing campaigns, donor relationship building and retention, and donor conversion.
Don't worry, we've got all your marketing needs covered. Reach out and get a free consultation now.