How to Track and Organize Grants for Nonprofits
One of the most important parts of running a nonprofit is the constant search for funds.
Organizations often utilize donation campaigns, monthly fees, and sponsorships to meet their financial goals. And while these are all great practices, one of the best ways to get large funding for your nonprofit is through grants.
Often seen as a huge undertaking for nonprofits who already have limited time and resources, grants are sometimes overlooked by organizations in lieu of less laborious fundraising methods.
But it's crucial that nonprofits don't ignore this fantastic opportunity for fundraising. The work put into the grant process is almost always worth it once your organization is finally awarded that well-deserved grant.
And grants are only becoming a more and more viable form of acquiring funds for nonprofits. Since 2013, private foundation grant giving has increased year over year, and in 2020 more than $90 billion was awarded.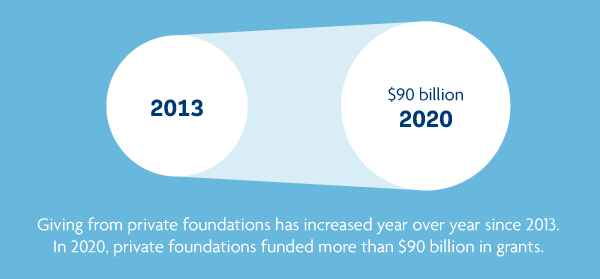 With some strong organization and tracking methods, applying for grants can become a much more manageable process.
Keep reading to learn more about our tips for grants for nonprofits in 2022.
What Is a Grant?
A grant is an award given to a nonprofit organization (the grantseeker) by a foundation, government, or corporation (the grantmaker) to help further a philanthropic goal or mission.
Grants are a very important fundraising tool, with nearly one out of every five nonprofits having received one before.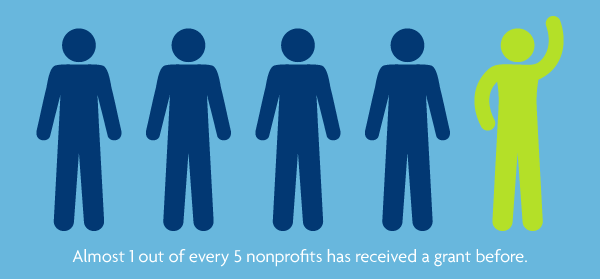 These awards are almost always cash funds that do not have to be paid back by the nonprofit organization.
Sometimes the grantmaker specifies exactly how they want the nonprofit to utilize the awarded funds and in what timeframe. Other times, nonprofits are free to use their grant however and whenever their organization sees fit.
In order to be considered for a grant, nonprofits must source relevant grantmakers and grant opportunities. Then, the organization must create and submit a grant proposal. Typically, these proposals have to do with the reason you're seeking a grant and how your organization would utilize the funds. Often grantmakers have specific questions or documents required in the application that grantseekers must address in order to even be considered for funding.
Grant proposals can be written by a staff member, but some organizations prefer to outsource this kind of work to a contractor. Some nonprofits even hire full-time grant writers, so they can submit numerous applications year-round.
The Importance of Grants for Nonprofits
Grants have many benefits when compared to other types of nonprofit fundraising.
As opposed to individual donations and crowdfunding, grants are large gift amounts, which individual donors and supporters of your organization typically cannot give.
When compared to loans, grants also have a big advantage because they almost always do not need to be paid back.
It's very important to have solid processes for grant-sourcing, writing, and applying because grants are a game of volume. The more you apply, the more likely you are to be awarded. In fact, almost 100% of organizations who applied to more than six grants were awarded at least one.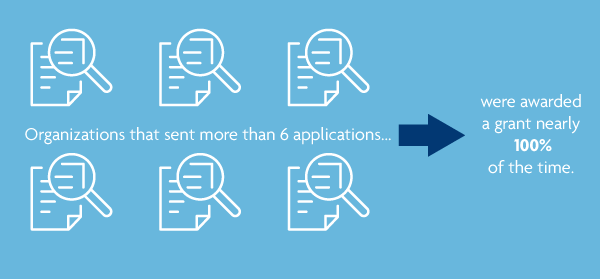 And once you've received your first grant, it's actually easier to receive more grants because your visibility and credibility have been established to grantmakers.
With so many clear benefits, it's easy to see why grants are an important endeavour for many nonprofit organizations.
However, the obvious downside of this process is that there is often tough competition for each and every grant. That's why it's crucial to find the right grants for your organization, organize your application process, and submit a strong and well-thought-out proposal.
We'll take you through the steps of submitting a solid grant proposal that will stand out from the crowd.
How to Find and Apply for Grants
Before you can begin crafting a grant proposal describing all the amazing things your organization does, you have to find one first! Every grant will have different application questions and requirements, so you need to source a grant and learn more about their grant proposal process before anything else.
Finding a grant
Often not concentrated on as much as the grant-writing process, grant-sourcing is actually arguably the most important step in creating a grant proposal.
You only want to spend time writing grants for the most promising grantmakers. That means that you must find foundations or corporations that align with your organization's missions and values.
Grantmakers are much more likely to consider your application if you organization does work or holds values that match with their own. This can also be important to your supporters as well. If you were to receive funding from a foundation with contradictory values to your own, you may lose supporters and your reputation could be tarnished.
In a recent study, 91% of respondents said that they applied to grants for nonprofits in 2021. That's a lot of competition.
If you've never applied for a grant before or are a small nonprofit, you have much higher chances if you apply for locally-based, smaller grants with a pool of fewer applicants. When you are able to successfully receive awards from these grantmakers, it will give you the experience and credibility you need to apply for those large, highly-competitive grants.
Next, you may be wondering where to actually look to find grants. There are plenty of grant search sites where you can filter by type of grant, location, and more. We recommend GrantWatch, which has sites for both U.S. and Canada grantseekers.
You can also Google nonprofit grants for your organization. Just be sure to use specific search terms referring to your grant interest, location, funding source, and any other terms that apply to your nonprofit. It's important to apply to the grants which fit your organization as closely as possible for the best chance at securing funding.
When you find a grant that looks like it may be a good match for your nonprofit, be sure to read through all of the grant details. If your organization doesn't match the eligibility criteria for the grant, don't bother applying, even if it's almost a match. You most likely have limited time and resources, so you're much better off exerting your efforts on a grant where you will definitely be considered.
Applying for a grant
So, you've chosen a grant or two that sound promising for your organization and you're ready to begin the application process. What now?
You may want to dive right into writing your proposal. But before doing that, there's some vital preparatory work that must be done.
As we mentioned previously, the required documents, information, and writing varies between each and every grantmaker. First, sit down and make a list of every piece of information needed for the application, so that you can get a better idea of the amount of work the total proposal will take and what order to complete it in.
It's also important to think about who will be reviewing and rewarding the grants. Does the grantmaker want more facts and figures, or a heart-touching appeal regarding the people your organization is helping? While the answer is most likely a mixture of both, knowing how much of each to include in your proposal according to audience will make your writing all the more persuasive.
Be sure to develop a convincing story or narrative about your nonprofit and keep that theme consistent throughout your proposal. Find data to back up your narrative, give plenty of examples of the impact your organization has made, and what you would be able to accomplish with the grant funding.
How to Track and Organize Grants
Nonprofits are typically applying to (and hopefully being awarded) a large number of grants. It's essential that organizations have methods and tools in place to track grants in both the application and award stages. We'll introduce you to some vital nonprofit grant tracking methods and software that your organization can implement.
Application phase
The amount of work and planning that goes into creating even one grant proposal can be daunting. And if your nonprofit is applying to many at once, the importance of organizing and tracking your grants is multiplied. Luckily, there are tons of nonprofit grant tracking tools out there for every grant-writing team.
It's no secret that Asana is a powerhouse when it comes to organizing teams and their daily work projects. What many nonprofits may not know is that Asana actually has a grant application pipeline template that can help your team with all aspects of the grant proposal process.
Airtable is another software which can help you track application status, manage contact lists, and create and follow deadlines for each team member. Information can be displayed in block format, charts, and more to keep all those critical grant details neat and organized.
Grant management software tool Instrumentl allows nonprofits to track grants throughout an entire lifecycle and can generate custom PDF or CSV reports for status updates or required materials. These can be shared with team members or stakeholders so that you're all on the same page when it comes to grant writing.
Award phase
While the importance of organizing your grant applications is very evident, many tend to overlook the importance of tracking once you are actually awarded a grant.
Most grants have stipulations attached to them that your organization must follow upon receiving it. Grantmakers may only want you to use the funds on a particular project or type of expense. Sometimes grants must be used over a specific period of time, as well.
In these cases, you must stay organized and track each and every expense and date in which the grant funds are used. A great way to do this is through grant accounting software systems. Here are a few that are sure to keep your team on track when recording your grant funds.
Cayuse is a financial management software that allows you to track all grant spending in one place. It can help you predict and prevent spending issues before they occur.
Another great software with the ability to track grant spending is Xero. This tool can also be integrated with many other third-party apps that can help keep your nonprofit organized.
Quickbooks is another big name with a nonprofit service that many aren't aware of. You can create specialized grant reports to easily keep everyone in your organization in the loop.
Our Biggest Tip for Nonprofit Fundraising
After successfully receiving a grant, it's crucial to maximize your new funds and invest in your organization's growth. In order to do this, you need a full marketing strategy with multiple revenue streams.
If you just don't have the time or resources to develop a marketing plan, we can help.
Engage Fundraising works with charitable and nonprofit organizations to develop direct marketing campaigns, build donor relationships and retention, and increase donor conversion.
Learn about us and unlock your organization's potential today.