Facebook Ads: Why it's One of the Best Ways to Grow your Nonprofit
We all know that Facebook is a social media giant. In fact, more than 1.96 billion people log onto the site every single day. With so many active users all around the world, it's no wonder that Facebook for nonprofits has become one of the preferred ways to advertise.
Nonprofit organizations often have limited resources to allocate towards advertising and marketing. The good news is: with Facebook ads for nonprofits, even organizations on the tightest budgets can expand their audience.
Once you understand the fundamentals of Facebook ads and how they can make a huge difference for your nonprofit, there's no limit to the supporters you can attract and engage with.
Continue reading to hear about the distinct benefits Facebook ads offers, how it works, and most importantly—how to use it!
The Benefits of Facebook Ads for Nonprofits
Facebook ads has some huge advantages as opposed to other marketing methods—or even other similar digital ad platforms.
Sharing power
Digital advertising is a fantastic way to build brand awareness. As opposed to email, it allows you to communicate with people who have never heard of your organization. For many nonprofits, Facebook ads are the first point of contact with a new supporter and set the conversion funnel in motion, eventually leading to new donors.
Social media advertising also has much larger sharing and engagement power in comparison to a marketing channel like direct mail or email. A thread of comments under an engaging ad, or a share from an excited new supporter pushes your brand to a new set of people that you wouldn't otherwise reach with other forms of marketing.
Highly visual
Facebook ads is also a highly visual platform, a distinct advantage it has over other digital advertising channels such as Google ads. This allows advertisers to create images that catch the eye, convey emotion, and persuade the user to check your organization out!
Targeting ability
The ability to target a specific audience is also much stronger on Facebook than it is on Google. Facebook has access to billions of profiles and data regarding each user's page likes, saved posts, brands they've interacted with, and much more. This means that you can target those who are most likely to support your organization with extreme precision on Facebook.
Reasonable costs
One of the best things about Facebook ads is that you can decide exactly how much money you want to put in.
From $2 a day to $200, your organization is in control of the maximum spend amount, so that you track and consider every dollar your nonprofit is spending.
In certain countries like the U.S., there are even Facebook grants for nonprofits. These grants are credits from Facebook that can go towards ads to help spread your mission and to encourage digital philanthropy.
How Facebook Ads Works
Facebook ads are very simple to get up and running, but first it's crucial that you understand some of the basics about how the platform works to promote your ads.
Before creating a Facebook ad, organizations must first determine the goal of their campaign. These goals can range from page likes to lead collection. Once the goal is determined, Facebook can then begin tracking for the desired outcome. In a recent study it was found that 26.94% of Facebook ads are focused on conversions, 24.19% of ads are aiming for post engagement, and 22.64% are optimized for link clicks.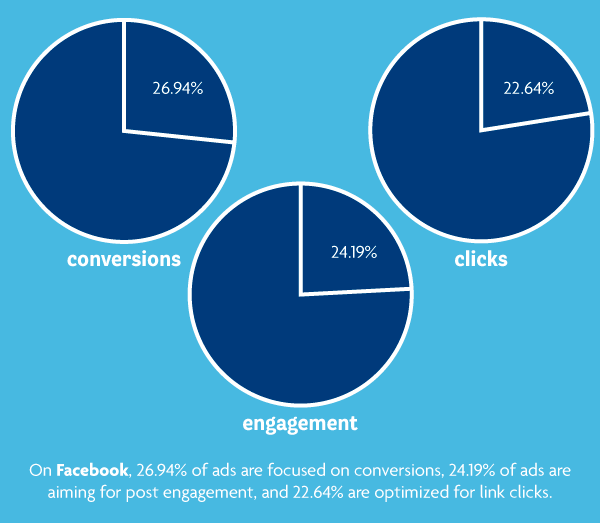 As detailed previously, Facebook ads works so well because the platform can target users based on various demographics such as age, gender, profession, location, etc. Facebook will only advertise to those who fall within your targeting, so you can appeal to the most promising people for your organization. This gives your nonprofit the best bang for its buck because your money is going towards the best chances at conversion, as opposed to just throwing money at a huge audience of people.
Utilizing your goal, target audience, creative, and a budget that you set, Facebook then begins pushing the ad to your nonprofit's future supporters!
How to Use Facebook Ads
Let's get into the specifics. You understand how Facebook does it's advertising in theory, but how about actually creating an ad in practice?
Follow our simple steps down below to get your first ad up and running.
Create an account
Before we can begin any of the fun stuff, we first have to create a Facebook page for your nonprofit.
Log onto your personal Facebook account and then visit Meta for Business to create a page. You'll be walked through a very simple process by Facebook where you input your page name, organization type, description, and profile picture.
After those basics are sorted out, you will be able to customize your page with content that matches your organization's identity. This includes website links, location info, contact info, and you can even start posting!
Once you've created and branded your organization's page to your liking, you can get started creating your ad.
Determine your ad's goal
First, navigate to Ads Manager. This is an ad tool by Facebook which allows you to view all your campaigns at once and is the best and easiest way to create and track your ads.
Then, ask yourself: why does my organization need to run an ad? Are you promoting an upcoming event, trying to get likes on your page, or trying to fundraise for your month-end campaign?
Whatever the reason, be sure to specify it when prompted by Facebook ads manager.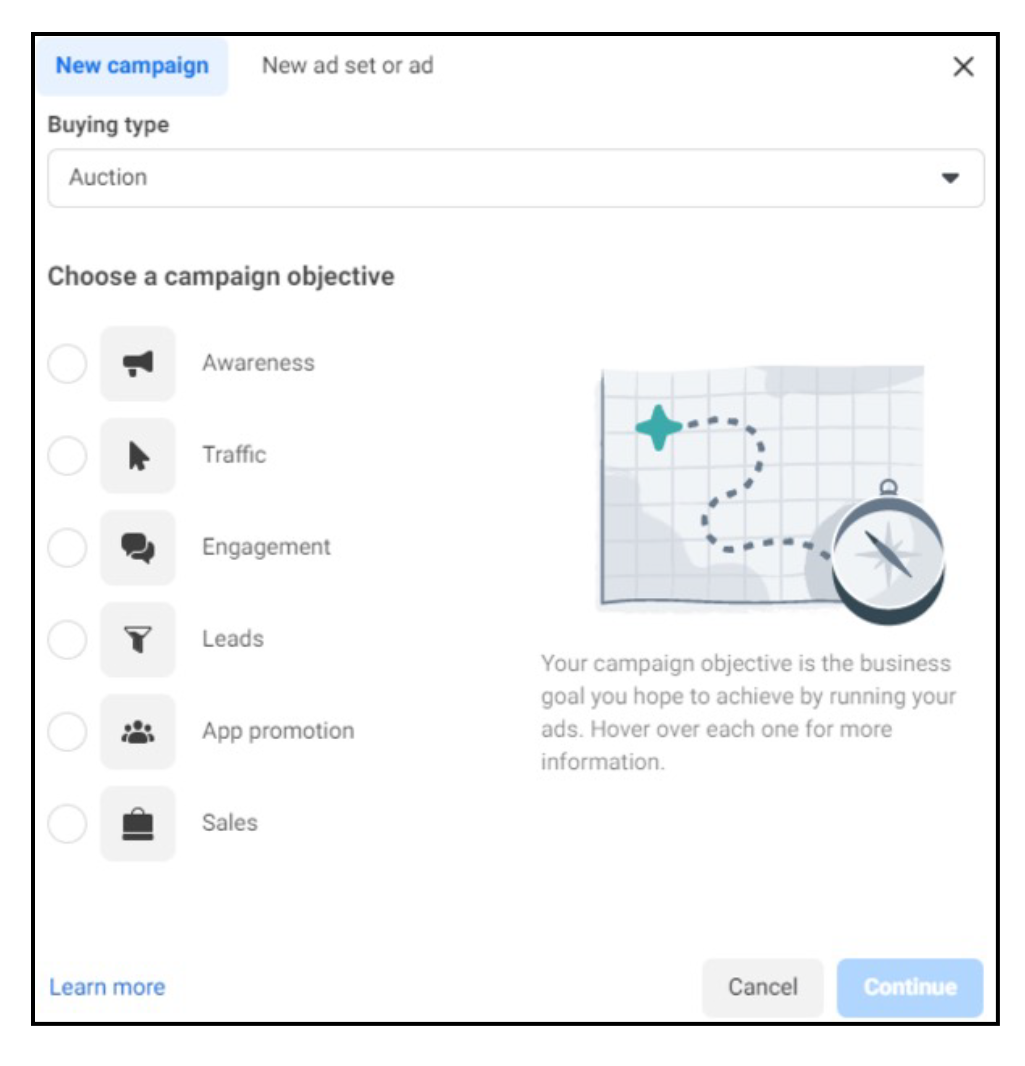 When you hover over each objective option, Facebook gives you a helpful tidbit of information to help you determine which objective is best for your goal.
Choose your goal and we can move onto the next step.
Calculate your budget
Once you've chosen your goal, one of the next steps you'll have to take is determining your ad campaign budget.
You have the option to choose a daily budget or lifetime budget, and then input the monetary amount. This acts as the maximum spending amount for the timeframe you've chosen.
It has been shown that just $5 per day can buy you 9 page likes. That's 9 potential donors or volunteers for your organization for just $5!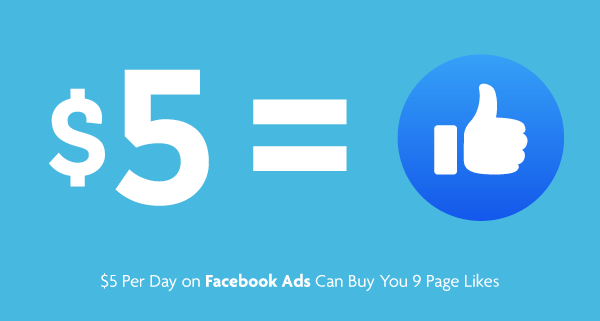 The more money you allocate to your campaign, the more people you can reach. Only you and your organization can determine the amount you're comfortable spending in order to reach your goals.
Target your audience
If you haven't already, now is the time to tap into your database and determine your organization's demographics. Are your supporters mostly older or younger? Men or women? Local or abroad?
All of these criterium and more are available for you to edit with Facebook ads.
You can also target those who have already shown interest in your organization through Facebook. Perhaps a supporter interacted with one of your events before, but forgot to register. You can target your ads to those specific people so when it pops up on their feed, they're reminded to go and sign up for your event!
Because Facebook has such a wealth of data about each and every user on its platform, they also have a powerful targeting technology called "lookalike audience." With this tool, you can select a source audience of strong past supporters, and Facebook will find users with similar characteristics to these people and advertise to them.
These targeting tools are big reasons why Facebook ads is such a powerful advertising platform. All you have to do is figure out your audience and you're well on your way to becoming an ad expert.
Add your creative
Next is the heart and soul of your advertisement, the creative. But there are a few main components to each ad that you should know about first.
Image or video: The image or video you include in your ad is the thing that is going to make a user stop scrolling and start reading. Therefore, it's vital to make this image as eye-catching and powerful as possible. Use bright, branded colours wherever possible and make sure you use text conservatively. As a matter of fact, Facebook actually used to reject all ads where the images contained more than 20% text. While they have since repealed the rule, they still recommend images composed of less than 20% text for the best performance.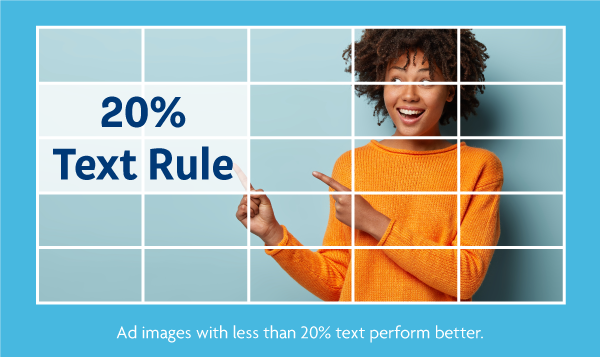 Copy: There are three places to include copy for your ad, the primary text field, headline, and description. While you may want to go all out describing what makes your organization great, it's better to keep your copy as short and sweet as possible. Describe your mission, tug at some heartstrings, use a couple actionable words to tell users how they can help, and that's it. Facebook recommends limiting the primary text to 125 characters, the headline to 40 characters, and the description to 25 characters.
Call to action: Finally, you'll get to decide on a call-to-action (CTA) button. Be sure that the CTA that you choose matches what you actually want users to do. If you are simply trying to get users to visit your website and learn more, choosing the "donate now" button could be off-putting and create poor results for your campaign's goal.
Once you've got your creative, you're all set to post your first ad! Be sure to review how the ad will look across all feeds, then hit publish.
If you need some inspiration for your organization's ad campaign, check out this example below.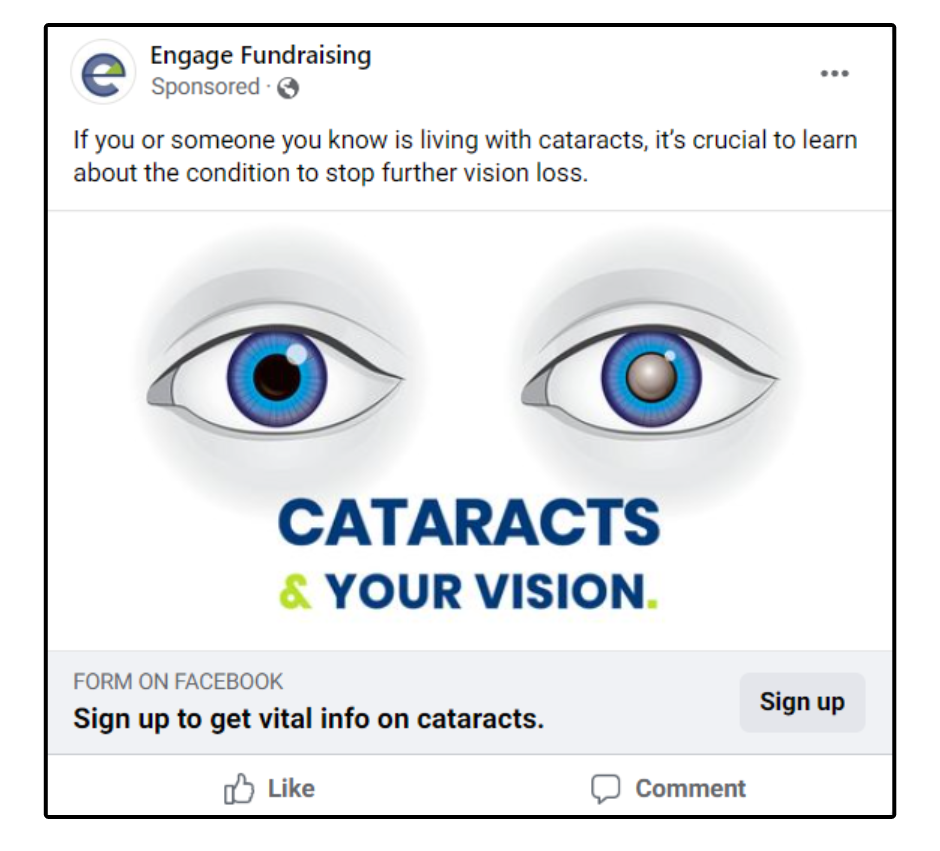 Test, test, test!
But we're not done there.
After your ad has been up for a while, you may begin to see results dip. This is a very common occurrence that is frequently attributed to audience fatigue or tired creative.
That's why it's essential to frequently test your targeted audience, your images, and messaging. Finding the users and creative that work best for your organization will allow you to get better results over more time and for less money.
Facebook actually has an A/B testing tool that will allow you to test various creative and audiences against each other. The results of these tests are invaluable to a nonprofit organization who is trying to make the most of every dollar spent on advertising.
Final Thoughts on Facebook Ads for Nonprofits
Facebook ads is a powerful tool that should be utilized by every nonprofit to expand their reach and conversions. If you just don't have the time to design a complete ad strategy for your organization, we understand.
Engage Fundraising works with charitable and nonprofit organizations to develop direct marketing, build donor relationships, retention, and increase donor conversion. We can help you achieve your mission of changing the world.